If your business deals with the B2B sector, you might've considered using LinkedIn advertising platform to reach your customers.
After all, LinkedIn is where most 'professionals,' network with each other online.  So, if you're in the B2B space, there's a good chance that your potential customer can be found on the online advertising portal of LinkedIn.
In this post, we're going to explore how you can set up some LinkedIn social ads that will put you right in front of your target customer.
We'll go through the process of setting up your ads and also how you can improve your advertising campaign over time.
By the end of this blog post, you'll have the expertise needed to use LinkedIn ads as a potential customer acquisition channel for your business.
Let's begin! 
Deciding who you want to reach
LinkedIn advertising platform provides you with incredibly powerful targeting capabilities.
However, there's no point in having access to all of that targeting power, if you can't take full advantage of it and use it towards your marketing efforts.
You need to spend some time thinking about who your ideal customer is.
If you want to be really comprehensive, you should consider creating a buyer persona and you can also start by looking towards your current customers.
Buyer persona's can be created by listing out all of the key traits and demographic information of your ideal customer.
Buyer persona's are important for all kinds of marketing plans especially when you need to nail down your target audience. For example, when utilized as part of an email marketing campaign, the use of buyer persona's led to 5x increase in 'Click through rate.'
When writing up your Buyer persona, it should cover the following –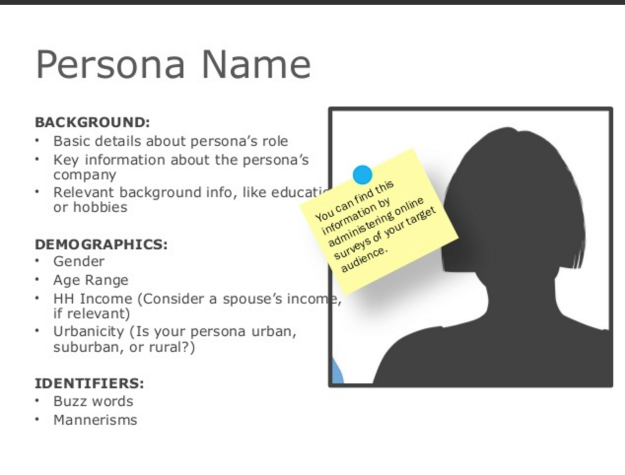 As well as these points, too. –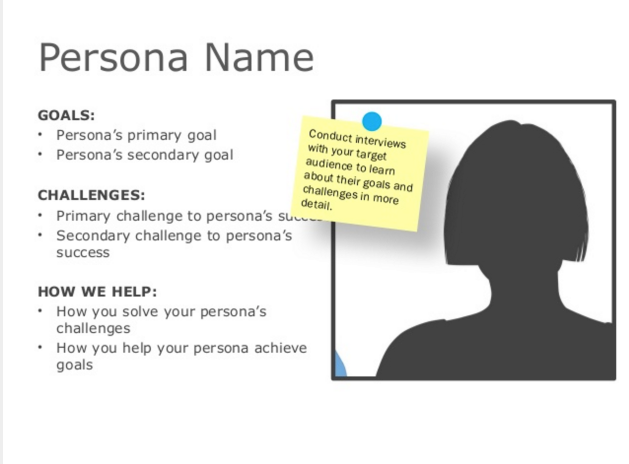 When it comes to LinkedIn, there are two ways that you can craft an effective Buyer persona.
The first method is where you simply create a buyer persona that's based on all of your current customers or customers that you have dealt with in the past.
This can be a good way to approach the task, if you've been in business for a long time and you're dealing with a market you know well.
The second method involves knowing one identifying trait (For many, the best trait to begin with is the job function) of your ideal customer, searching the LinkedIn advertising platform using that trait  and then analyzing the profiles that come up.
You then check out each profile and find patterns that provide you with insight, in terms of the similarities that this specific niche audience have.
These patterns will then help you construct a Buyer persona that represents who you should be targeting your advertising campaign towards.
This method can be helpful, if you're venturing into new territory and you don't know the market as well as you'd like to.
Now, let's delve into the different types of LinkedIn ads that you can use to boost your small business.
The different kinds of LinkedIn Ads
When using LinkedIn  for online advertising, there are two kinds of ads that you can display to help your digital marketing – Sponsored Content Ads and Text Ads.
Sponsored Content Ads relate to content that you can sponsor, so that it appears in the News Feeds of your target audience.  
This can be a good form of social advertising, if you want to promote some of your 'content marketing' efforts to the right target people.
Hubspot has used Sponsored Content, in the past, as a means of collecting leads and upping their marketing strategy.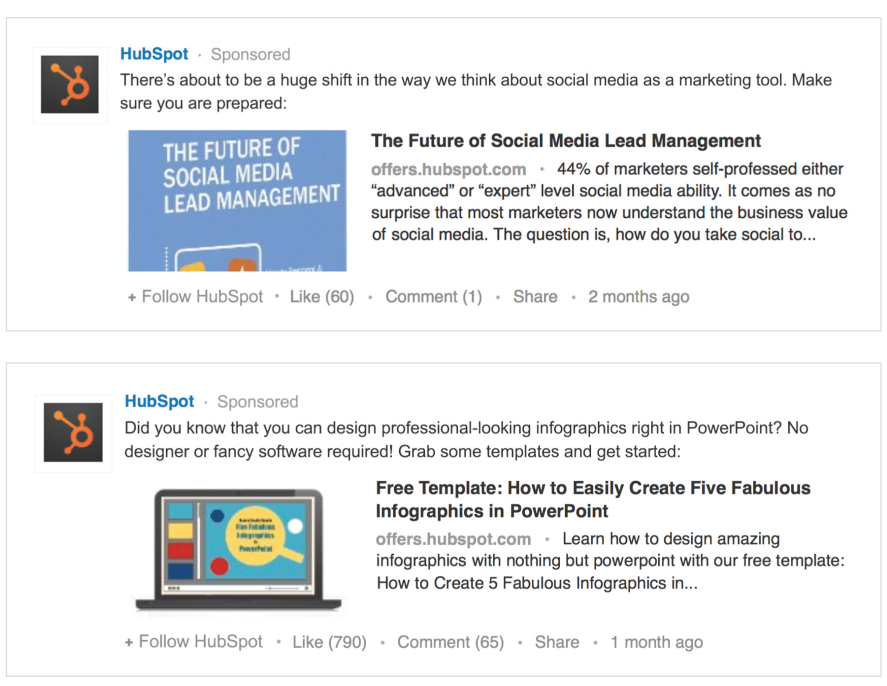 Their efforts resulted in them earning 400% more leads within their target audience, when compared to other lead generation and advertising platforms.  
It's not just them – Spredfast achieved a 500% increase in lead production, thanks to Sponsored Content Ads reaching their target audience.
When running this kind of advertising campaign, it is important that you have a 'conversion goal,' in place.
While it would be nice to run a brand awareness campaign, many small businesses don't have the budget to do so.
Therefore, when you run a Sponsored Content campaign, ensure that you have a way to collect leads, once someone engages with your content.
Having Conversions Goals will also let you know how well your ad campaigns are doing. It will give you a figure to shoot for, without having you aimlessly run ad campaigns, hoping for a return.
Keep in mind that it is essential that you have a system in place for 'nurturing' these target audience leads.
You'll struggle to get people to buy from you right away, if they've just signed up after reading a bit of your content or blog posts and not heard anything else from or about your small business.
So, make sure that you have an autoresponder sequence in place that books a call with the lead or sends them to an engaging webinar. This will definitely help keep your media marketing plan heading in the right direction.
Thanks to Sponsored Content Ads Kinvey achieved a 65% lower lead cost and a 38% more leads, when compared to other social media channels.
But, all of this would have been less meaningful, if they didn't have conversion goals and a lead nurturing process.
In addition, you also need to make sure that the Sponsored Content Ad campaigns are appealing to your target audience.
Below is an annotated image that explains what you need to pay attention to, when creating a Sponsor Content Ad.
If your content and blog posts are something that your target audience is really interested in and wants to read, there'll be less pressure to create a spectacular advertising campaign.
Text Ads on LinkedIn are slightly different. These Ads tend to appear around the typical web pages that people see, while on LinkedIn.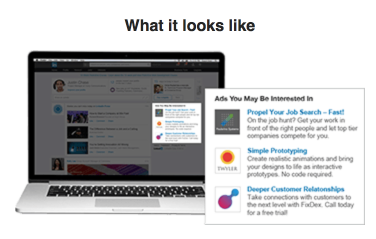 Here's a closer look at some LinkedIn Text Ads.
As you can see, aside from targeting, you really only have to focus on copy and images.
Thankfully, it's pretty easy to test multiple variations of this ad and you can rely on split testing to help you come up with a winning ad (more on that later).
When set up properly, Text Ads can deliver great results.
Clever Zebo managed to attain a 15% conversion rate with their best performing ad, which had a CPC of $3.74.
Note: That CPC might sound high, but it's typical of what you should expect on a social ad on LinkedIn.
As an advertising platform LinkedIn can price their ads higher, because they're dealing primarily with a B2B market that can afford to pay the higher costs.
Additionally, LinkedIn doesn't have the inventory that you'd find on social networks like Facebook and Google.
This means that more people are competing for less (comparatively) advertising space – driving the prices up.
In any case, let's move on and look at what makes a text ad effective.
When it came to the creation of their Text Ad, Clever Zebo noticed a few key factors that led to success.

The first involved using the target audiences job function in the description. They found that this improved click-through rates and reduced the number of 'curiosity clicks' on their social ads.
Second, they found that the use of a person's face also led to better results with the advertising campaign. This tends to do better than a logo, for example.
Third, Clever Zebo found that clear sentences, that sounded natural and conversational, worked best for their body copy.
This worked better than having an overly pushy, 'salesy' style of copy. Content marketing experts will know this from creating blog posts, twitter ads, and content to share on social media.
Creating LinkedIn Ads
Go to https://www.linkedin.com/ad/accounts and select the campaign that you want to create.

If you want to run Sponsored Content Ads, you'll need a 'Showcase page.'
That's because with a Sponsored Content advertising campaign, you're essentially promoting an update that you've posted on your company page.
Note: When running a Sponsored Content campaign, there are two kinds –
If you want to, you can run a 'Direct Sponsored Content' campaign. This will stop you 'clogging up' your company page.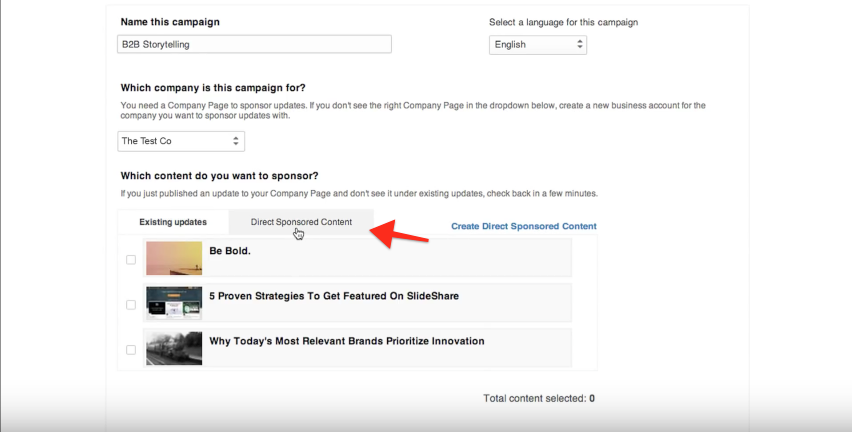 With Direct Sponsored Content, you can create content from within the Campaign Manager.
Aside from that, Sponsored Content campaigns and Text Campaigns are relatively similar in how they're set up.
Let's now look at setting up a Text Campaign, keeping in mind that what we cover can also be applied to Sponsored Content Ads.
To set up a Text Ad, go back to https://www.linkedin.com/ad/accounts/ and select 'Text Ads.'
You don't need a company page for LinkedIn Text Ads.
Give your social ad campaign a name and select your language.

Then, go about creating your ad, using the tips we covered earlier.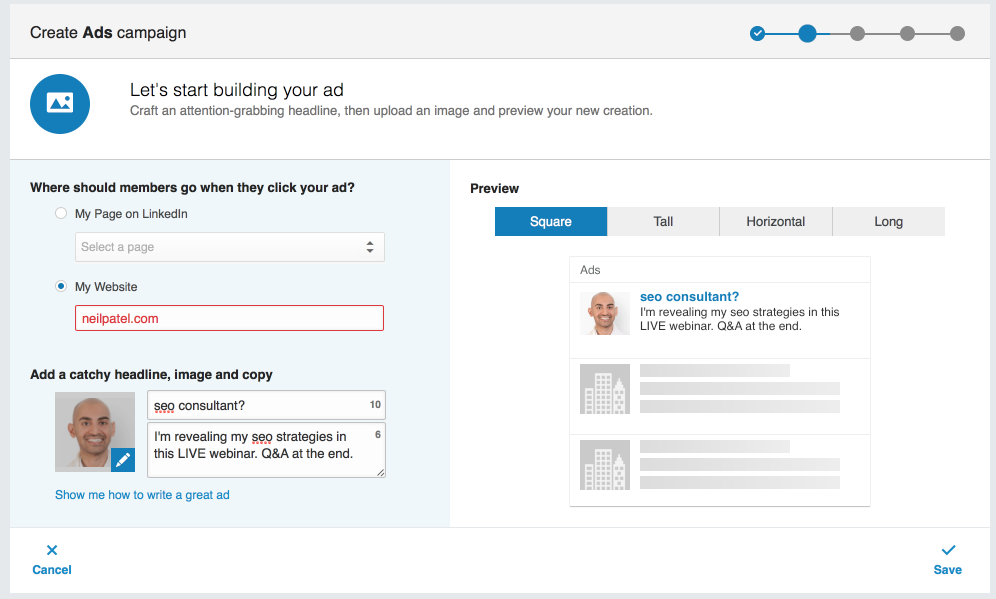 Here are some tips, provided by LinkedIn, related to how you can write better content to improve your online advertising potential. As you can see, the rules are similar for creating great blog posts, twitter ads, and inspiring online content. 
On the right side of the page, you can see some samples of what the ad will look like, when it takes on different sizes.
Here's a Horizontal Ad.
And, a 'Long' Ad.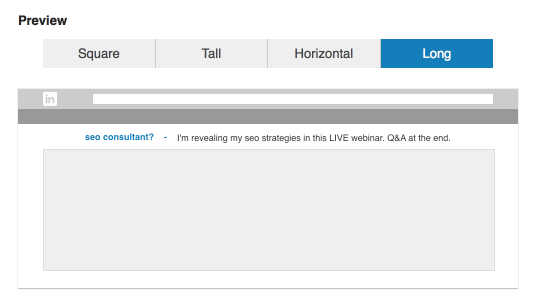 Once you've created your first ad, you then have the chance to create more ads. If you're going to do some split testing, this is where you can create some additional ad variations.
In the next section, you then have the chance to aim your ad at your target audience. This is where you can put your buyer persona data into action and really nail down that marketing strategy.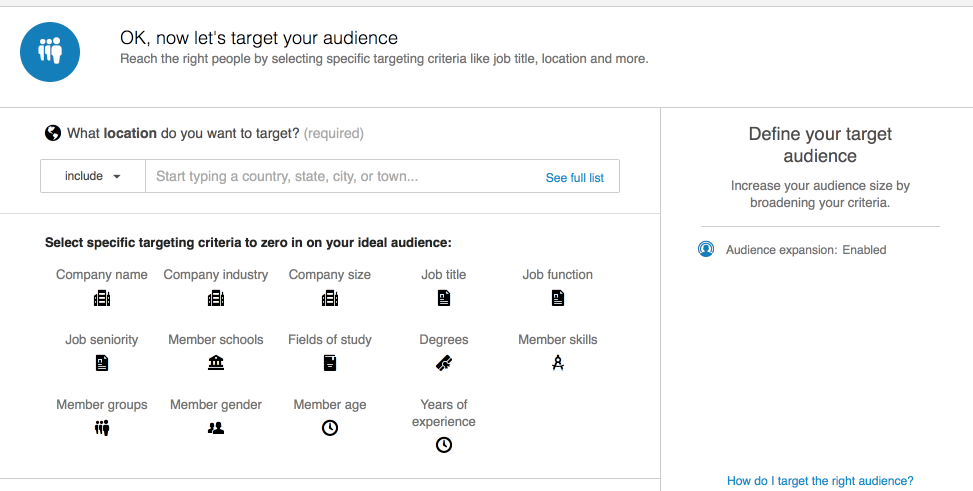 LinkedIn will help you better target your social ads.  It will provide suggestions for you, based on the information that you put in.
If you look near the bottom of this page, you'll notice that there is something known as 'Audience Expansion.'
Audience Expansion is a feature that allows for you to target your ads towards people who are similar to the target audience you're currently targeting – a little like 'Lookalike Audiences' from social network giant Facebook.
While this feature might be very effective, consider trying it out only after you first have a winning advertising campaign.
Once you're finished with the targeting for your campaign, you can then decide how much you're going to bid for your campaigns.
As we mentioned before, the ads on LinkedIn can cost quite a bit. If you know the lifetime value of a customer, however, the price of the ads can be justified as part of your online advertising budget.
There is a minimum bid on LinkedIn of $2.00
You then finally get the chance to approve your campaign and input your billing information.
After that, you just need to wait for LinkedIn to approve your campaign and you'll soon be good to go.
Optimizing your campaigns
You need to optimize your ad campaigns over the long term, if you want to continually achieve better and better results.
We've already explained how split testing can tie into this.
You should also split test your conversion process and not just your ads.
Consider changing around your landing page, for example.
You might even want to experiment with calling people who sign up, to see if you can convert them into a customer on a call, as opposed to using an autoresponder to convert them.
You could introduce a webinar that educates your customers about what you do and how you can help them.
If you're running Text Ads, you need to run new ads at least every month.
That's because Text Ads can fall victim to Banner Blindness.
This is where people become less responsive to your content on advertising platforms and social networks, because they're so used to seeing them.
With Text Ads, you're displaying your ads to a set group of people and new people aren't being exposed to your ads on a daily basis, as would be the case with a Google Search Ad, for example.
So, your ads can, over time, just blend into the site streams, if you don't change them on a regular basis.
When you're running Sponsored Content campaigns, make sure that you keep an eye on the analytics.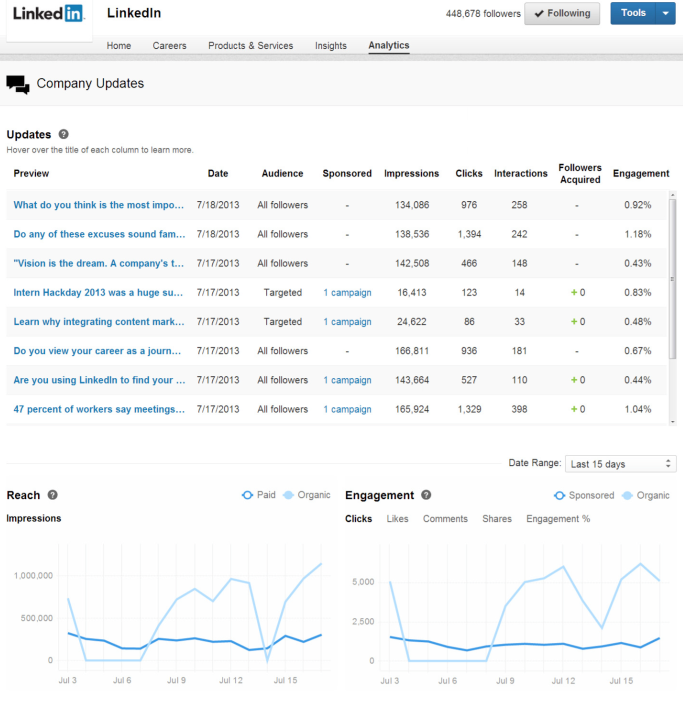 If you find that your content is not achieving the high levels of engagement that you'd like, you'll obviously need to make some changes.
Odds are you're either creating content and blog posts that aren't appealing to your target audience or your targeting isn't right.
In most cases, it'll be that your content isn't appealing enough.
To create content that will get better levels of engagement, use a tool, like Buzzsumo, to see what kind of content is working well for your niche audience.
Once you find winning topics, go about creating something 10x better.
In doing so, you'll have created a worthwhile resource, based on a proven topic, that will entice people to check it out.
Conclusion
LinkedIn is an amazing advertising platform to utilize, if you want to get your web site in front of a B2B audience.
With the help of LinkedIn ads, you can do just that, but with laser targeted precision for your online advertising.
In this post, we've gone through the essentials of creating a LinkedIn Ad with a step by step guide.
We touched on why you need to create a buyer persona and also the different types of LinkedIn Ads and how to optimize each type.
Run some ads of your own, while putting these tips into practice and see if you can get some positive results with Linked Ads.